I'm just about to finish my second pair of socks -- the first were a simple toe-up sock in self-striping yarn, the pair I'm about to finish are toe-up Jaywalkers.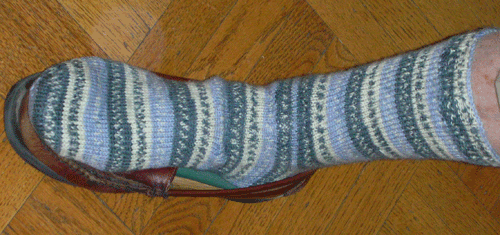 This is one of the pair - my dad put them on as soon as I gave them to him and he only took off one shoe so I could get a picture of him wearing it.
I've been completely bitten by the sock bug. So I turn to you: What is your favorite sock pattern - one that you go back to over and over again, or one that you had a blast knitting, or simply one that looks really cool to you? I prefer toe-up socks, but don't have anything in particular against cuff-down patterns.